A&E Partnership (A&EP) is an independent consulting startup company dedicated to helping clients R&D projects related to RF, microwave and UWB areas that involve circuits, electromagnetic components, e.g. antennas and arrays, simulation tools, signal processing algorithms and software for applications in radar, comm
unication and RFID.
A&EP provides design, development, prototyping and tests of the listed above components, sub-systems and whole systems including also troubleshooting existing client designs. Also, our clients have been assisted in other areas as well, including software development and technology evaluation for RFID, EM simulation tools and expertise for antennas and arrays including operation in close proximity to material objects. A&EP has been in business for second year leaded by Anatoliy and Elen Boryssenko that have each over 15 years of industrial and academia experience in the scientific and technical areas connected to RF, microwave and UWB circuits, components and systems.
Our fields of expertise are shortly sketched below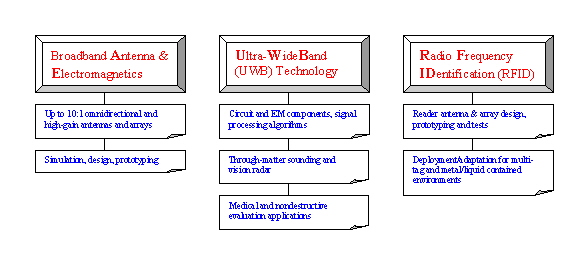 Browse our Web site for more information about A & E Partnership.
If you have any questions to A&E P regarding our [PRODUCTS / SERVICES], please mail or e-mail us
A&E Partnership
10 Meadow Pond Road
Belchertown MA 01007 USA
contactus@ae-partnership.com
At A & E Partnership, the customer always comes first.